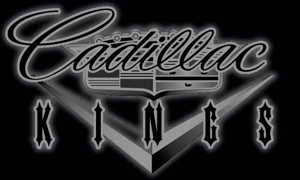 Cadillac Kings Car Club History…
Club Beginning - The first meeting of what is now known as Cadillac Kings Car Club was held May 7, 2005 at a Farmer Boys Restaurant in Riverside, CA. This meeting was the product of Derek, who coordinated the meet over several weeks of communications on the 1963-1964, Cadillac Forum on Yahoo along with several others on the same website. That first meeting had a turnout of approximately fifteen Southern California classic Cadillac owners, and their rides. It was an awesome site to see that many classic Cadillac's' in one parking lot, as most local shows/meets only showcase Chevy's, Fords, or imports. As the meet came to an end Nicky Varon who was in attendance approached Derek and asked him what his intentions were (future meeting, start up a club, etc.). Derek stated that he just wanted to see if gathering that many Cadillac's was possible and that eventually see if there was enough interest in starting a club without all of the rules and drama that the clubs we had been in before had. Nicky asked if it would be okay to gather everyone's contact information and maybe coordinate another meet. Derek agreed and the first list of 10 potential Cadillac Kings members was created.

Club Name - Cadillac Kings Car Club was originally named "So. Cal Cadillac Club" temporally until after a few meetings we could vote on a final name. In September of 2005 nine members of the So Cal Cadillac Club collectively compiled a list of 48 possible club names. With the direction of Nicky, the list of 48 possible club names was narrowed down by a silent voting method held over two additional meetings until "Cadillac Kings" was selected by most votes.

Club Chapters and Growth – From the start of the club in May of 2005 to late 2007 there were no separate chapters, and all meetings were coordinated by Nicky (through phone calls and emails) and Derek (with postings on the various discussion boards). Meeting locations were rotated between Inland Empire, Orange County, and Los Angeles County. This rotation was based on what areas the members lived in. As members came in and out of the club, meeting locations changed and eventually ended up in Los Angeles County where the majority of the members lived in at that time.

In late 2007 Derek along with two other original founding members; Gary and Wes Hornung had put together many new members that lived in the Inland Empire and expressed the need to hold meetings in that area. At that time the Los Angeles based club had grown to 18 members and it was time to split the club into two chapters to allow more growth. Since Derek was one of the first founding members and had the ability to attract more club members living in the Inland Empire area it was decided to create a second chapter. Cadillac Kings currently has 20 chapters 16 of them in the USA...11 in California (Los Angeles, Inland Empire, Orange County, San Diego, Temecula, Bakersfield, Antelope Valley, San Fernando, East Bay, San Jose, and Solano), 5 chapters outside of California (Albuquerque NM, Cleveland, OH, Las Vegas, NV, Inland NW, WA and South Jersey, NJ) and 4 international chapters (Austrailia, Denmark, UK and Toronto, CN). Cadillac Kings Car Club is always looking to grow with quality and stability!

Club Logo, Website, and Branding – The initial club website was put together by Nicky and was originally hosted on the same server as his business. This site turned into what is now the "Cadillac Kings Car Club" main site (www.cadillackingscarclub.com). As the club has grown each Cadillac Kings chapter now maintains their own chapter website or facbook page. The main site still exists and serves as general club information and a direct link to the individual chapter sites. Once the Cadillac Kings club name was established in 2005, Nicky started working on a club logo. The Cadillac Kings logo was inspired by the 1957, 58, and 59 Cadillac "Crest" and "V" designs. The "Cadillac" script in the logo is purely Cadillac, and the "KINGS" font was inspired by the "So Cal" lifestyle. This logo is the most important part of Cadillac Kings since it is what symbolizes us and represents us. Club branding has always been something Nicky strides for; and hopes that one day the Cadillac Kings logo has as much brand recognition as the Coca-Cola® script.

Club Moving Forward -- We are striving to create logical and sustained growth for the club. One of the ways we have done this is by creating a committee approach to our growth. This consists of Chapter heads and founding members that have a vision and direction for the club moving forward.